Dodano: 30.11.2022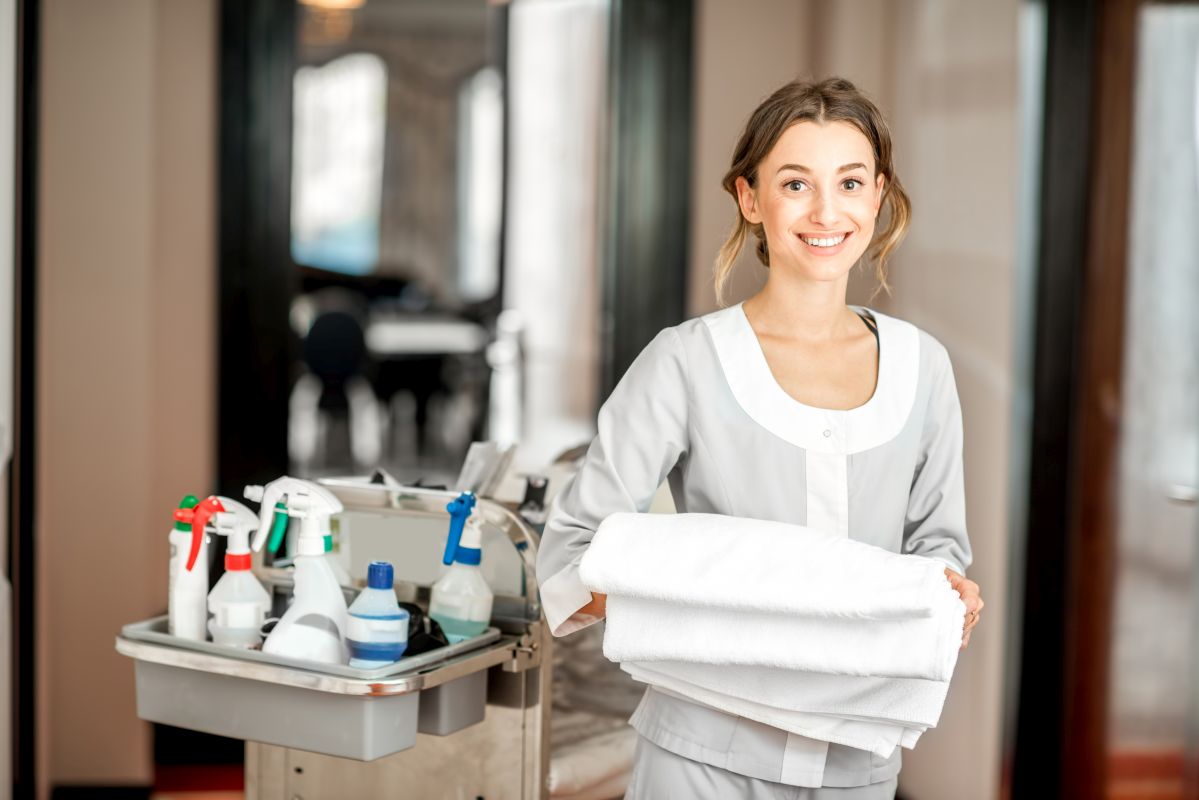 In hotels and other accommodation, properly executed disinfection is particularly important. The safety of guests depends on it, so there can be no question of negligence here. Any shortcomings in this regard can have very serious consequences. Find out how to avoid them, which surface disinfectant to choose and what to do to make sure the disinfection process has the desired effect.
What should the disinfection process look like?
Meticulous adherence to disinfection in accommodation facilities should always be important, but since the coronavirus pandemic, it has become particularly important. Whatever the situation, hotel rooms should be disinfected every time guests leave. During the stay, they may only be cleaned at the express request of the client. Particular attention should be paid to the bathroom. Almost every disinfectant manufacturer offers products specifically for cleaning toilets, so it is worth reaching for them.
All common areas of the hotel should also be cleaned regularly with the utmost care, using a suitable virucidal liquid for the surface. Sensitive areas that require more time for disinfection are those that are frequently touched by guests, such as doorknobs, handrails, lift buttons and light switches.
Care should also be taken to regularly wash and disinfect all textiles. While this is quite obvious in the case of bedding or blankets, curtains, drapes or fabric upholstery of furniture are in many cases overlooked. Staff also often forget to disinfect waste bins, and these are further places that can harbour dangerous microorganisms.
Precautions for disinfectors
For the sake of your staff, it is important to remember to provide appropriate protective measures for those responsible for disinfection. After all, they are the ones who have the most contact with surfaces that could potentially be contaminated. Ideally, they should wear masks on their faces and gloves on their hands when carrying out disinfection. Once the clean-up is complete, those who did the clean-up should already remove their gloves and apply antibacterial hand lotions to remove any microorganisms that may have been left on their hands.
Choosing the right biocidal products is one of the most important factors determining the effectiveness of disinfection.
Attention should be paid to their intended use and specific recommendations for their use, which each manufacturer of disinfectants places on the label. Cleaning surfaces requires the use of other liquids than disinfecting textiles or places that come into contact with food. It is also very important that disinfectants are safe for the people who will use them. It is best if they absorb quickly so that after a short time the surface can be used again.
Disinfectant liquids and soaps for guests
The owner of each accommodation facility must ensure that there are generally available dispensers with antibacterial hand liquid on its premises. The absolute minimum is to place them at the entrance, near the reception and elevator, and in the bathrooms. Thanks to them, each guest will be able to remove microbes from the surface of their hands when necessary. It is worth paying attention to the quality of disinfectants made available to guests. It is best to choose antibacterial hand lotions with the addition of moisturizing agents, leaving a pleasant smell and those that are quickly absorbed. Thanks to this, the need to use them will not be only an unpleasant duty for hotel customers, but may even become a pleasure.
Check the offer from PureQueen
To meet the needs of hotel owners and cleaning companies, PureQueen, the manufacturer of disinfectants, offers a wide range of antibacterial preparations for various applications. They include both viral liquids for surfaces and antibacterial preparations for hands. All of them are distinguished by high efficiency and safety of use. Try it today and see how easy disinfection can be with their use.